TRUMP & THE MIDDLE EAST

- AN HIR SERIES -

When Trump bullies Mexico he pulls a symbolic lever, and pieces and gears in the Western political system click 'grammatically' into place, aligning so that Trump can advance the traditional pro-jihadi and anti-Israel policies of the US power elite. More than racism, it's psychological warfare. Trump is a con artist. And you've been conned.

Historical & Investigative Research – 21 May 2017, by Francisco Gil-White
http://hirhome.com/TRUMP/TRUMP_06_eng.htm

<![if !vml]><![endif]>

print friendly

<![if !supportMisalignedColumns]>
<![endif]>
The HIR model of US politics sees the Democratic and Republican parties as simulations of a unitary 'Establishment,' a ruling cartel centered in the CFR (Council on Foreign Relations) and other powerful think tanks. Every single time, regardless of who 'wins,' this cartel determines US policy (Part 4). And that policy, since long before Obama, has been to promote jihadi terrorism and undermine Israeli security (Part 2).
A more common model sees US politics as a 'free market' of independent parties. In this view, Donald Trump is a real competitor and his anti-Establishment rants, his loud denunciations of Obama's pro-jihadi and anti-Israel policies, and his campaign promise to "drain the swamp" in Washington were all sincere.
To decide which model best matches reality, we need evidence. Consider, for example, Trump's choices for top foreign-policy positions. These, it turns out, are all 'swamp creatures': former Obama stalwarts and CFR Establishment types with a history of promoting jihad and undermining Israel (Part 5). This evidence agrees with the 'cartel' but not the 'free market' model.
Useful evidence is like this: one hypothesis can explain it, but not the other. It gives a system diagnostic.
<![if !vml]>

<![endif]>

The HIR model: it's a cartel
For an example of useless evidence—the kind we may safely ignore—consider the speech, much celebrated by his supporters, that Trump delivered in Saudi Arabia, where he spoke against jihadi terrorism. What does that tell us? Exactly nothing. To the 'free market' model, this is sincere anti-jihadism; to the 'cartel' model, it's a 'grammatically' forced move, required by Trump's political theater (for he needs to appear 'anti-jihadist'). Either or—we don't know.
Such is always the case with words: diametrically opposed theories can simultaneously explain them because they cost nothing to produce. That's why behavioral economists pay zero attention to verbal expressions of purported values and preferences, or 'cheap talk.'
By contrast, Trump's $500 million in precision guided munitions to Saudi Arabia, announced in the same trip, is not cheap (it's worth $500 million). And it matters, because Saudi Arabia
<![if !supportLists]>a) <![endif]>"plays the lead role in financing contemporary Islamist movements, within the Arab-Muslim world but also in Africa, Asia, and Europe";
<![if !supportLists]>b) <![endif]>has dotted the European landscape with mosques that radicalize Muslims in the Old Continent; and
<![if !supportLists]>c) <![endif]>in collusion with the Obama administration, recently sent its own weapons (which it buys from the US) to jihadis in Syria, including ISIS.[0]
So, this is, once again, diagnostic evidence. The 'cartel' model, by the lights of which—on substance—Trump is just more Obama, can explain it; the 'free market' model, which has Trump as a sincere anti-jihadist, cannot.
Now, a scientific model, to be any good, must be productive. The cartel model can account for a couple of things—fine; but can it account for many more? To ask this question is to 'test the model,' by which process we explore the limits of its explanatory reach. If the model can surprise us by accounting for stuff that, intuitively, seemed outside of its purview, then it is a good model indeed.
Here is a claim that most will find surprising:
The ruling cartel's pro-jihad and anti-Israeli thrust is what explains Trump's bullying of Mexico.
I know what you're thinking. I am supposed to be doing geopolitics and I can't even get my map straight. Mexico is far from Israel, and hardly a major player in Middle-Eastern politics.
Yes, but the map that counts here is the identity field. Whoever can shape it can render certain moves on the physical map possible or impossible. It is the essence of psychological warfare and requires a grasp of 'political grammar.'
Here's what I mean. When Trump bullies Mexico, this is a symbolic move. It's not really about Mexico—or not just about Mexico. He is playing for a US audience, a European audience, an Israeli audience—in short, for the whole West. It's part of the ruling cartel's grand show.
Millions of Westerners with a 'left-liberal' identity, when they see Mexico getting bullied, feel an identity-driven emotion: they hate Trump. It is then quite enough, to make these people hate an idea, to make that idea come out of Trump's mouth.
This is power—the power to direct minds.
Of course, Trump can also be used to manipulate people on the 'right.' Some ideas out of Trump's mouth, which 'left-liberals' are taught to hate, are precisely those that people on the 'right' had been waiting years to hear from a US president, and which make these latter love Trump. The effect is to make the two camps irreconcilable. (Divide and rule.)
This is a wide-spectrum psychological weapon: it works for all sorts of things coming out of Trump's mouth. But our focus is the Middle East, so I will pay attention to how, by thus manipulating people, the cartel creates a political ecology where it may continue (in its Trump version) with its pro-jihadi and anti-Israel policies. These policies endanger your liberties.
It works because you don't understand it. But I shall explain it.
<![if !vml]>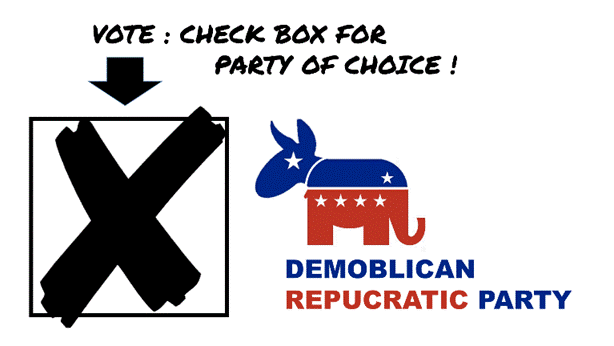 <![endif]>

He's the con artist; you're the mark.
My demonstration that you've been conned has four stages.
First (Part 7), I show that—aside from style—there is nothing new in Trump's bullying of Mexico. In fact, in recent history, US policy towards Mexico was never so violent as during the Bush Jr.-Obama period. Obama II—better known as 'Donald Trump'—carries it forward.
Second (Part 8), I show that Trump is an accomplished con artist. In fact, this is not the first time that the US ruling cartel has deceived us by having Trump make an issue of Mexicans.
Third (Part 9), I explain how Trump's present 'anti-Mexico' con works to divide Westerners into separate, antagonistic identities that render us defenseless against the jihadi onslaught.
And finally (Part 10), I explain the entire suite of Trump's foreign policies from the vantage point of this unifying perspective to show you where the system is really going. I am afraid I have bad news for Israelis.
Before I do all this, a disclosure: I am a Mexican citizen, writing from Mexico City.
[0] To get a sense for the effect of Saudi Arabia's dollars, consider Sweden. As Wikipedia explains, "The governments of Saudi Arabia and Libya have financially supported the constructions of some of the largest Mosques in Sweden." What Swedish Muslims hear in those mosques is consistent with the reigning ideology in Saudi Arabia: Salafism or Wahhabism, which preaches the application of totalitarian Muslim Sharia law and the murder of 'infidels.'
According to an article in the Swedish media (Dagens Nyheter), the number of 'no go' zones in that country, where even the Swedish police dare not tread (given the levels of religious extremism and criminality), has been rising steeply. In fact, there has been a 50% increase in such areas in just the last two years. And they are getting larger. In some of these places, even the Post Office no longer delivers, judging them too dangerous (read about this in English here).
More widely, Saudi dollars cause plenty of other trouble, for
"Saudi Arabia plays the lead role in financing contemporary Islamist movements, within the Arab-Muslim world but also in Africa, Asia, and Europe."
—Labevière, Richard. 2000. Dollars for Terror: The United States and Islam. New York: Algora Publishing. (p.231)
In June 2012, it became public that Obama's CIA—Trump's alleged nemesis—was running a program to arm the—allegedly democratic—'Syrian opposition' to Assad. "The arms themselves," the report stated, "are coming from Turkey, Saudi Arabia and Qatar." As a Pentagon secret report confirmed two months later, the 'Syrian opposition' (except for the Rojavans) was entirely jihadi, including the recipients of CIA-sponsored weapons. And yet, immediately after that report, Obama gave his favorite 'Syrian rebels' more weapons and military training, after which they joined ISIS—Trump's other alleged nemesis—en masse.
So, Trump is making massive transfers of weapons to Saudi Arabia because he is different from Obama? Because he is sincere about fighting jihadi terror? I hope the sarcastic tone is coming through. Obviously, the 'free market' model of US politics cannot account for this evidence.
[1] McSherry, J. Patrice. 2002. "Tracking the Origins of a State Terror Network: Operation Condor." Latin American Perspectives, Vol. 29, No. 1, Brazil: The Hegemonic Process in Political and Cultural Formation. pp. 38-60. (pp.38-40)
[2] "Under these secret agreements, US DEA agents met repeatedly with high-level members of particular drug cartels, especially the Sinaloa group, to obtain information about rival organizations. Informants served as go-betweens in contacts between the DEA and "El Chapo" Guzmán, the head of that cartel. …The DEA arranged to dismiss drug trafficking charges that were pending in the United States against some of their Sinaloa Cartel informants. In other words, it allowed the cartels with which it worked to continue business—and murder—as usual."
SOURCE: "The US's 'War on Drugs' Has Spiraled Dangerously Out of Control: It didn't work in Afghanistan, so let's do it in Mexico"; The Nation; 23 March 2015; By Rebecca Gordon
[3] "In the debacle known as 'Fast and Furious,' the Bureau of Alcohol, Tobacco, Firearms, and Explosives (ATF) allowed 'more than 2,000 weapons, including hundreds of AK-47-type semi-automatic rifles and .50 caliber rifles,' to 'walk' across the border and into the hands of the Mexican cartels. Its ostensible purpose was to follow the guns in hopes that they would lead to the arrest of high-level cartel leaders. But relevant agencies of the Mexican government were never informed about the operation, and it seems that there was no actual effort to track the weapons once they crossed the Mexican border. The weapons turned up at crime scenes in both Mexico and the United States. On December 14, 2010, near the Mexican border in Arizona, one of them killed Brian Terry, a US Border Patrol agent.
ATF wasn't the only agency involved in 'Fast and Furious.' Personnel from ICE, the Department of Homeland Security, the DEA, and the US Attorney's Office in Arizona also participated, along with the FBI and the IRS."
SOURCE: "The US's 'War on Drugs' Has Spiraled Dangerously Out of Control: It didn't work in Afghanistan, so let's do it in Mexico"; The Nation; 23 March 2015; By Rebecca Gordon
[4] 'Fast and Furious' became a scandal because US Border Patrol agent Brian Terry was killed in Arizona with one of the guns that US authorities had supplied to Mexican drug cartels, and the investigators in charge of that murder doggedly followed their leads. This is chance. Happenstance. Other such operations to undermine Mexican democracy may exist, but without the same stroke of 'luck' (apologies to Terry's family), we may never find out about them.
SOURCES:
"Federal judge reopens 'Fast and Furious' controversy"; CBS News; 21 August 2014; By Jake Miller.
"Brian Terry family sues ATF officials in Fast and Furious"; CBS News; 17 December 2012; By Sharyl Attkisson.
[5] "Report: Mexico was second deadliest country in 2016"; CNN; 11 May 2017; By Elizabeth Roberts
[6] Mexico's drug cartels
"behead people by the hundreds… heap headless, handless bodies along roadsides as warnings to those who would resist their power."
I remember a different Mexico. As a kid, at the barber shop, I would ogle clandestinely this horrific tabloid, ¡Alarma!, which collated, as a kind of pornography, gruesome photos of mutilated and burnt bodies and stories of back-alley tortures. Those were the good old days! For only the innocent can be thus titillated. There is no market for that today, when every newspaper has become ¡Alarma!
SOURCE: "The US's 'War on Drugs' Has Spiraled Dangerously Out of Control: It didn't work in Afghanistan, so let's do it in Mexico"; The Nation; 23 March 2015; By Rebecca Gordon
[7] "Mexico's war on drugs: what has it achieved and how is the US involved?"; The Guardian; 8 December 2016; by  Nina Lakhani and Erubiel Tirado in Mexico City.
[8] Alejandro Madrazo, a respected analyst of the Mexican 'war on drugs' working out of CIDE, in Mexico City, explained to me that these are (reasonable) estimates. But nobody really knows, and the numbers could be higher. (personal communication)
[9] "Despite growing resources directed at supply-side enforcement, the illicit drug market has continually expanded, and is now estimated by the UN to turn over more than $330 billion a year, a figure that dwarfs the GDP of many countries."
SOURCE: "The War on Drugs: Wasting billions and undermining economies"; Count the Costs: 50 Years of the War on Drugs; by Transform Drug Policy Foundation
[9a] "The US's 'War on Drugs' Has Spiraled Dangerously Out of Control: It didn't work in Afghanistan, so let's do it in Mexico"; The Nation; 23 March 2015; By Rebecca Gordon
[10] "Frustración y esperanza";  El Diario (Coahuila); 27 de Junio 2017; por Onésimo Flores Rodríguez
[11] "Halting U.S. firearms trafficking to Mexico: A report by senators Dianne Feinstein, Charles Schumer, and Sheldon Whitehouse to the United States Senate Caucus on International Narcotics Control; One Hundred Twelfth Congress, FIRST SESSION; June 2011.
[11a] "México no es el segundo país más violento: SRE a Trump"; Milenio; 22 de Junio 2017.
[12] "NOW YOU SEE IT...: Just where did ISIS come from?"; Historical and Investigative Research; 23 Nov 2015; by Francisco Gil-White
[13] "Trump Is Pat Buchanan With Better Timing"; Politico; September/October 2016; By Jeff Greenfield
[14] "When Pat Buchanan first proposed building a fence on the Mexican border, the Republican establishment was shocked, shocked! The candidate's sister and campaign manager, Bay Buchanan, pushed for language in the 1992 GOP platform calling for 'structures' on the border. Surely you don't mean a fence, she was told. 'We're not talking about lighthouses,' she replied."
SOURCE: "Pat Buchanan: Donald Trump Stole My Playbook"; The Daily Beast; 6 January 2016; by Eleanor Clift
[15] " 'The Ideas Made It, But I Didn't' "; Politico; May/June 2017; By Tim Alberta
[16] " 'The Ideas Made It, But I Didn't' "; Politico; May/June 2017; By Tim Alberta
[17] "That time Donald Trump put a Republican on blast for dissing Mexicans"; Fusion; 16 September 2015; by David Matthews.
[18] "Mexico's war on drugs: what has it achieved and how is the US involved?"; The Guardian; 8 December 2016; by  Nina Lakhani and Erubiel Tirado in Mexico City.
[19] Though Buchanan pretends to be outside the Establishment, it isn't true. Like Stone, he cut his teeth with Richard Nixon, whose speeches he wrote (he was " 'like a father to me,' " says Buchanan). Ronald Reagan was fond of those speeches, apparently, because he asked Buchanan to be his communications director, after which Buchanan became a tremendous force in the mainstream media.
---
www.hirhome.com
<![if !supportLineBreakNewLine]>
<![endif]>