TRUMP & THE MIDDLE EAST

- AN HIR SERIES -

Trump, naturally, makes a few noises to satisfy those who expect him to implement an anti-jihadi and pro-Israeli foreign policy—these are obligated moves, forced by the political grammar. But if we look at what Trump is achieving, we find that, like his predecessors, he is making radical Islam stronger and Israel weaker.

Historical & Investigative Research – 21 May 2017, by Francisco Gil-White
http://hirhome.com/TRUMP/TRUMP_06_eng.htm

<![if !supportMisalignedColumns]>
<![endif]>
---
www.hirhome.com
<![if !supportLineBreakNewLine]>
<![endif]>
<![if !vml]>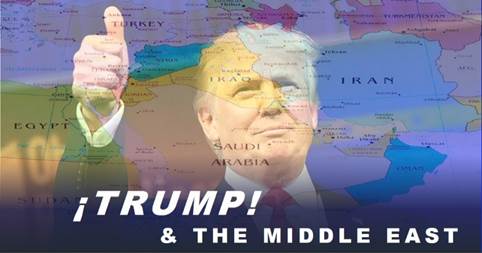 <![endif]>
Will Trump be different? Israeli patriots expect him to be. After all, he postures as an enemy of Iran and ISIS. But, what evidence will be diagnostic that Trump really is delivering on his Mideast promises?
Can Trump (assuming he wants to) transform US foreign policy in the Middle East? To get a sense for how difficult this might be, we must appreciate how traditional the pro-jihadi policy has been. (It wasn't just Obama.)
According to many in the mainstream media, the Trump-Netanyahu summit evidenced a 'pro-Israeli' turn. That would be a direct challenge to the HIR model. But we don't see it. The result of the summit, we claim, was 'pro Iran.' To say otherwise, as we show, requires important historical omissions.
Is US policy-making run by a bipartisan elite cartel? Perhaps the president is a figurehead; the media show changes, but the long-term goals—chosen by the CFR—are always the same. If so, Trump's Middle East policies will feel different, but they will yield familiar fruits.
When we examine the backgrounds of those chosen to make foreign policy for Trump, we find they are Establishment figures with a history of supporting pro-jihadi policies.
When Trump bullies Mexico he pulls a symbolic lever, and pieces and gears in the Western political system click 'grammatically' into place, aligning so that Trump can advance the traditional pro-jihadi and anti-Israel policies of the US power elite. More than racism, it's psychological warfare. Trump is a con artist. And you've been conned.
█  7. Obama, too, was a bully (and Bush Jr., and Clinton, and...)   
Except for the declared US-Mexican War of the 19th c., US policy has never been so violent against Mexico as in the Bush Jr.-Obama period. What changes with Trump is just the style—and that's the clue that this is a con—.
In the year 2000 a well-known businessman and media personality announced himself as presidential candidate in order to fight racism, denounce border walls, and defend Mexicans. His name was Donald Trump.
To preserve the West as the refuge of human rights and modern liberties, we need to be, simultaneously, pro-liberty and anti-jihad. But the identity-driven emotions stirred by the anti-Mexico con make Westerners either 1) anti-jihad but fascist; or 2) pro-liberty but pro-Islam. Either combination dooms the West.
Trump, naturally, makes a few noises to satisfy those who expect him to implement an anti-jihadi and pro-Israeli foreign policy—these are obligated moves, forced by the political grammar. But if we look at what Trump is achieving, we find that, like his predecessors, he is making radical Islam stronger and Israel weaker.
Even granting that the US is run by a power-elite cartel, it may not be obvious why that cartel would want to support jihadism and undermine Israel. We attempt to explain that here.
Notify me of new HIR pieces!
<![if !vml]>

<![endif]>